Intermountain's Dr. Todd Vento Wins UETN Telehealth Excellence Award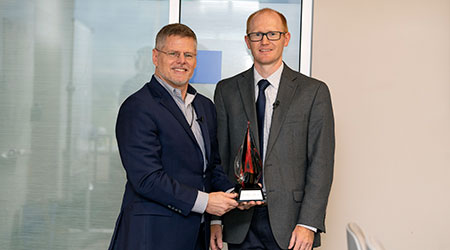 The award, presented by the Utah Education and Telehealth Network (UETN), recognizes exemplary Utah leaders in improving telehealth services throughout Utah
Dr. Todd Vento has been the medical director of infectious diseases at Intermountain Healthcare for the past six years and has led several telehealth initiatives allowing Intermountain to manage the COVID-19 pandemic in the most tech-enabled way possible.
"I didn't know this was coming; I am a little bit stunned," Vento said. "I feel tremendously blessed and honored and really just the fact that it is a reflection of the people I work with and how well we work as a team and how much we put into providing these telehealth services, not just in the state, but the entire region and across the country."
Adam Hornung, executive director of operations at Intermountain Healthcare, celebrated Vento's accomplishments in his nomination letter. "Todd's contribution to one of the leading telehealth operations in the country has been substantial, and we think he is well-deserving of this award."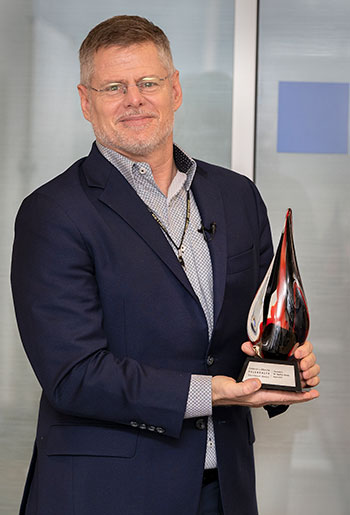 During the COVID-19 pandemic, Dr. Vento served in key positions such as Infectious Disease/Public Health advisor to Intermountain's executive leadership team and emergency operations center, and advisor to the Utah Governor's Task Force. He implemented COVID-19 telehealth daily virtual clinical rounds for Intermountain and outreach facilities, ensuring that hospitalized patients had access to a team of clinical subject-matter experts.
Making use of social media and throughout the pandemic, Vento gave weekly video updates on Facebook and YouTube on the progress of COVID-19 cases in Utah and abroad. He also gained national recognition through interviews with MSNBC, Good Morning America, CBS This Morning, Wall Street Journal and Population Health podcast.
Matt McCullough, director of Telehealth Services for UETN, announced the award: "We are pleased to present the 3rd Annual Deborah Lamarche Telehealth Excellence Award to Dr. Todd Vento for his dedication and commitment to virtual care, especially during the COVID-19 pandemic. Dr. Vento's efforts to make technology-enabled care available to patients throughout the state of Utah have truly been significant. He is a valued leader in the field and is well deserving of this prestigious award."
Vento has an extensive background in infectious disease management. Vento holds a Master of Public Health degree in epidemiology and international health from Johns Hopkins School of Public Health. Vento is a U.S. Army Medical Corps veteran with extensive international health and epidemic response experience who had postings across the United States, Japan, Korea, Bosnia and Italy. He held positions as the Department of Defense's infectious diseases advisor during the 2014 Ebola response in Liberia, SARS and Avian/Pandemic influenza preparedness officer for several military installations, and ID/PM Advisor to the Afghan National Army. In addition, Vento is an associate professor at the University of Utah.
"The Deborah LaMarche Telehealth Excellence Award is a way of honoring someone each year for their outstanding work in the field of telehealth. It is also our way of honoring Deb LaMarche for her 25 years of tireless work to make telehealth an effective modality of care delivery," McCullough said.
The award was presented recently at Intermountain's Telehealth building in Murray in front of Vento's colleagues. Members of the Utah Telehealth Advisory Council reviewed all eight of the nominations this year and were given specific scoring criteria to measure the impact each nominee had on the adoption and advancement of Telehealth in the State of Utah. "The council members unanimously selected Dr. Todd Vento for the 3rd annual Deborah LaMarche Telehealth Excellence Award," McCullough said.
Spencer Jenkins, executive director and CEO of UETN said, "These nominees truly demonstrate the caliber of the medical and telehealth community here in our own Utah backyard. Our providers continue to lead the way in innovation and research, and UETN remains committed to supporting their hard work and success."
Seven other nominees were recognized. They are:
Sue Chase-Cantarini, University of Utah, College of Nursing
Preston Marx, Uintah Basin Medical Center information technology department.
Etta Shumway, Utah Navajo Health System
Dr. Amy Smith, University of Utah, Department of Psychiatry
Anthony Torres, Utah Navajo Health System information technology department
Linda Vernon, Summit County, network administrator.
Wayne Community Health Center Staff
The Utah Education and Telehealth Network (UETN) provides broadband internet connections and support to Utah's public schools, technical colleges and higher education institutions serving more than 886,000 students and 81,000 faculty and staff throughout Utah. UETN also connects more than 70 hospitals, clinics, health departments and dialysis centers in Utah and is headquarters of the Northwest Regional Telehealth Resource Center (NRTRC), serving Alaska, Idaho, Montana, Oregon, Utah, Washington and Wyoming. UETN also operates public television station KUEN on behalf of the Utah Board of Higher Education.
Intermountain Healthcare is a Utah-based, not-for-profit system of 33 hospitals (including a telehealth virtual hospital), a medical group with more than 3,800 physicians and advanced practice clinicians at about 385 clinics, a health plans division called SelectHealth, and other health services. Helping people live the healthiest lives possible, Intermountain is widely recognized as a leader in clinical quality improvement and efficient healthcare delivery.