Network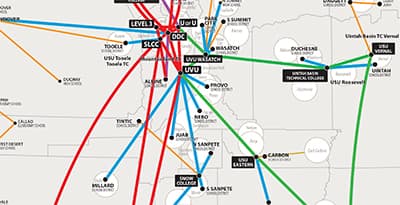 The Utah Telehealth Network operates a secure, reliable network connecting hospitals, clinics and health departments. UTN contracts with multiple Utah service providers to utilize MetroE services delivered via fiber and, when necessary, microwave.
Participating health care facilities can choose to connect into UTN from a range of bandwidth speeds (generally 20 Mbps to 100 Mbps). UTN's partnership with the Utah Education Network will allow us to take advantage of the UEN backbone and offer UTN member sites up to 1 Gbps.
UTN network and security engineers manage all circuits end-to-end, including a firewall and router at each member health care facility. UTN staff support local IT staff through collaboration, expertise, and education, including summits for networking, support, and education.
Network services include:
24/7/365 network monitoring and support
"Uptime" goal of three 9's – up 99.9% of the time
Internet access
Technical site assessment, network design and consulting services