Equipment Selection Process
Options for telehealth equipment are endless. There are portable videoconferencing carts, integrated room systems and desktop systems for PCs and laptops. Web-based and mobile device options for videoconferencing are becoming more available and, in some cases, compatible with traditional systems. Remote monitoring options are being incorporated into mobile and wearable devices.
With the explosion of technologies on the market, equipment selection can be both exciting and daunting. Utah Telehealth Network is available to assist with equipment or infrastructure selection, including room design and technical recommendations. Utah Telehealth Network has an expert technical and clinical team to provide customized consultative services to assist in the selection process.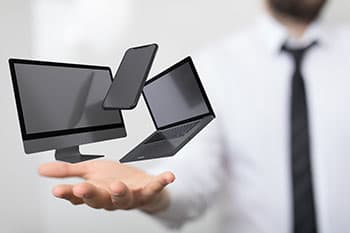 Basic principles to consider:
The need(s) – appropriate for the intended purpose
Secure – meet HIPAA standards
Interoperability – compatibility with standards-based equipment (for videoconferencing) and with EMRs (for remote monitoring equipment) provides flexibility and functionality
Ease-of-use – relatively intuitive with minimal instruction
Robust
Cost-effective
Details to work through:
Videoconferencing equipment requirements

What are the technical requirements for the remote site: far-end camera control to zoom and pan, view of the whole room, focus on individual(s)
Identify the host location and equipment, i.e., home units, desktop, wireless mobile units, clinic
Platform compatibility – standards based vs. proprietary
Electrical safety – Site's facility & engineering department can determine requirements, including possible use of isolation transformers, especially in emergency departments and inpatient rooms.
Collect videoconferencing details

Public and private IP addresses
Type of videoconferencing equipment

Request a vendor quotes, as appropriate

Medical Peripherals for clinical applications - There are many peripheral instruments which can be attached to the clinical practitioner's cart that can assist in an interactive examination, such as: Digital stethoscope, Otoscope, Ophthalmoscope, Total exam camera, and etc.
There are numerous mobile devices and remote patient monitors available. The FDA has issued final guidance on mobile devices and medical devices.
A note about Vendor Equipment Maintenance
Utah Telehealth Network highly recommends that vendor maintenance be kept current on telehealth equipment, especially codecs, cameras and monitors. It is essential to ensure equipment replacement, if needed, and to install software upgrades.