Intermountain Health's Susan E. Scott Wins UETN Telehealth Excellence Award
The Utah Education and Telehealth Network (UETN) has chosen Susan E. Scott, DNP PMHNP APRN as the 2023 recipient of the Deborah LaMarche Telehealth Excellence Award. The award recognizes Utah leaders who demonstrate exemplary efforts toward improving telehealth services in the state. This is the fourth year that UETN has presented this prestigious award.
Scott is a psychiatric mental health nurse practitioner (PMHNP) who has led Intermountain's efforts to build a virtual behavioral health practice (Connect Care — Behavioral Health) at Intermountain Health in Salt Lake City, Utah.
"I felt really surprised and honored to win this award," Scott said. "My colleagues and I have worked really hard to do something we felt could really help people access mental health services more easily, and it is really validating to have an organization like UETN recognize that work."
Spencer Jenkins, executive director and CEO of UETN said, "These nominees truly demonstrate the significant contribution being made in telebehavioral health throughout Utah and, more specifically, in our rural areas. It's heartening to see cutting-edge technologies support the dedicated efforts of these medical professionals in such a critical field." 
Tim Lovell, executive director of operations at Intermountain Health, celebrated Scott's accomplishments in his nomination letter. "Her team consistently ranks in the 80th percentile nationally for patient experience, while Susan's own patient experience results are consistently in the 99th percentile."
'Telehealth is critical to the management of behavioral health in rural areas of Utah because it is very possibly the only way people in rural communities can access care," Scott said. "Telehealth is essential and transformative for the provision of healthcare in rural areas and allows people to be treated in their communities."
Lovell explained, "Susan's work has provided care to the most remote locations with limited access. Her clinic has helped over 2,700 patients from 140 cities and towns in every Utah county."
Matt McCullough, Director of Telehealth Services for UETN, announced the award Wednesday, June 14, at the UETN Tech Summit held at Murray High School. "We are pleased to present the 4th annual Deborah LaMarche Telehealth Excellence Award to Susan E. Scott with Intermountain Health. Susan is well-deserving of the award and is leading the way to use technology to improve access to critical behavioral health services for thousands of patients throughout Utah and the Intermountain West."
"I love telehealth … and telehealth is here to stay," said Scott.
The other nominees recognized were:
Aaron J. Fischer, University of Utah

Nate Gladwell, University of Utah

Stephanie Gricius, Utah House of Representatives

Kristal James, Rocky Mountain University Counseling Clinic

Dr. Shawn Kohler, Jaeyong Cho, and Rosalva Guzman, Huntsman Mental Health Institute

Heidi Lindfors, Intermountain Hospital at Home

Amelia Wilcox, Nivati
The Utah Education and Telehealth Network (UETN) provides broadband internet connections and support to Utah's public schools, technical colleges and higher education institutions serving more than 886,000 students and 81,000 faculty and staff throughout Utah. UETN also connects more than 70 hospitals, clinics, and health departments in Utah and is headquarters of the Northwest Regional Telehealth Resource Center (NRTRC), serving Alaska, Idaho, Montana, Oregon, Utah, Washington and Wyoming. UETN also operates public television station KUEN on behalf of the Utah Board of Higher Education.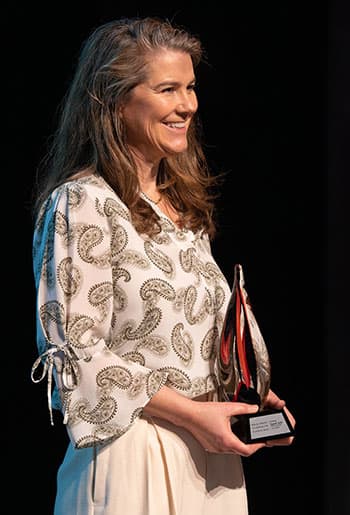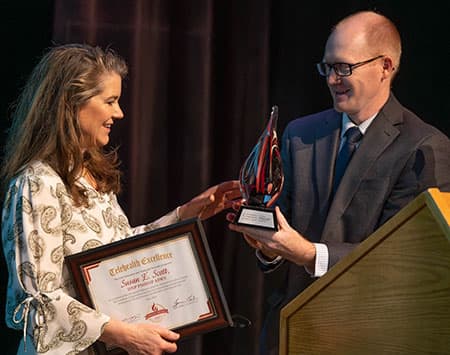 Return to Awards