School Telehealth Kits
Instructions for starting a telehealth session with a school nurse
Turn on the tablet by pressing and holding down the power button on the right side of the tablet for 2-3 seconds.
When the tablet is powered on, click on the "Clinics" button at the bottom of the main screen.
Click on the icon for the appropriate school nurse for your school.
Click on the check box to agree to the Terms and Conditions. You don't need to fill out any information about the student.
Click start
Once the session has started, you can invite a parent or legal guardian to join the session by clicking on the "Invite" button at the top left of the screen.
Enter an email or cell phone number and click "Send Invite". The parent or legal guardian will receive a link to join the session with the school nurse and the student.
When the session is over, click "END CALL" in the top right corner of the screen.
To save battery life, turn off the tablet completely by holding down the power button for 2-3 seconds and click "Shutdown" when you are done.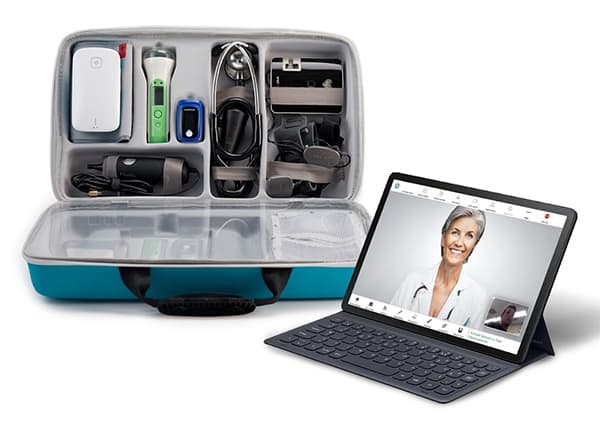 About School Telehealth Kits
The Utah Education and Telehealth Network (UETN) has the unique purpose of connecting people and technologies to improve education and healthcare in Utah. In line with this purpose, UETN seeks to bridge the gap between education and telehealth by providing school nurses with telehealth technology, in order to perform virtual visits and asses the health of students remotely.
School nurses play a vital role in schools and communities by providing a number of services including direct care of student, chronic disease management, screenings, and now COVID-19 related duties among other things.
UETN has partnered with 19Labs to deliver approximately 175 telehealth kits to 21 rural school districts in Utah funded by the CARES Act. Our goal is to place the telehealth kits in the schools that need them the most.

The goal of this project is to reduce the amount of time school nurses spend traveling to visit each school and improving access to care and the overall health of students in Utah.