School Telehealth Kits
Instructions for starting a telehealth session with a school nurse
Turn on the tablet by pressing and holding down the power button on the right side of the tablet for 2-3 seconds.
When the tablet is powered on, click on the "Clinics" button at the bottom of the main screen.
Click on the icon for the appropriate school nurse for your school.
Click on the check box to agree to the Terms and Conditions. You don't need to fill out any information about the student.
Click start
Once the session has started, you can invite a parent or legal guardian to join the session by clicking on the "Invite" button at the top left of the screen.
Enter an email or cell phone number and click "Send Invite". The parent or legal guardian will receive a link to join the session with the school nurse and the student.
When the session is over, click "END CALL" in the top right corner of the screen.
To save battery life, turn off the tablet completely by holding down the power button for 2-3 seconds and click "Shutdown" when you are done.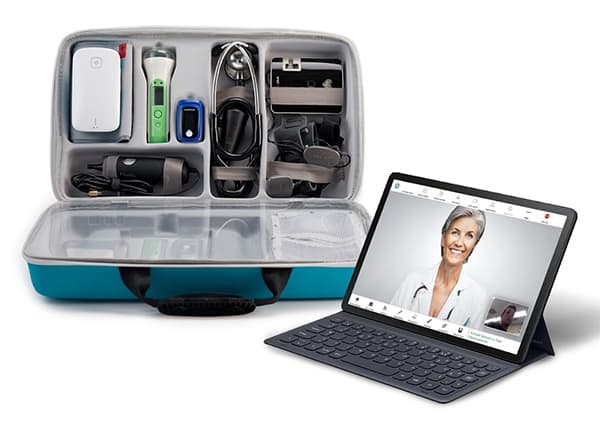 Training Videos & Recordings
News & Announcements
New software update available (version 1.14) for Gale units. Please follow the instructions for performing a software update and sync on your tablet. Learn about the benefit of the new update...

To schedule a virtual test session with 19Labs to get one-on-one training with the tablet, Call Center, or diagnostic devices provided in the telehealth kit, please email support@19labs.com and include your name, school district, school name, and available times.
Technical Support
Hours 7:00 am to 7:00 pm
+1 (669) 209-8600

Program Contact
Matt McCullough
801-585-6560